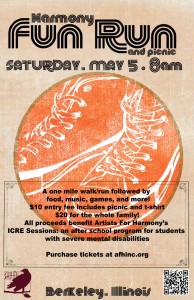 Saturday, May 5th . 8am 
Join us in Berkeley, IL for a one mile walk/run followed by food, music, games, and more! Race starts on the corner of Taft and Electric (across from the police station). $10 entry fee includes picnic and t-shirt* $20 for the whole family!
Can't make the race? Join us for the free fun and games starting at 11am!
Click here to purchase tickets
Click here to view/download the registration form.  Each participant must fill out the registration form, and you may bring it with you to the race.
All proceeds benefit Artists For Harmony's after school art and music programs.
*Register by Friday, April 20th to receive your t-shirt